July 2022 - December 2022
Philippine Embassy in Athens Commemorates the 126th Anniversary of the Martyrdom of Dr. Jose Rizal
"Rizal: Preserved Memories Treasured Today by the Nation" (Rizal: Alaalang Iningatan, Yaman Ngayon ng Bayan", 30 December 2022, 8:30 AM Philippine Embassy Grounds
The Philippine Embassy in Athens commemorated the 126th Anniversary of the martyrdom of Dr. Jose Rizal "Alaalang Iningatan, Yaman Ngayon ng Bayan", at the Embassy Grounds on 30 December 2022 at 8:30 A.M. with a short program. The Embassy held a flag-raising and proceeded with wreath-laying ceremony while the message of Hon. Enrique A. Manalo, Secretary of Foreign Affairs was read and the recitation of Dr. Jose Rizal's poem "Mi Ultimo Adios".
The commemoration was led by Ambassador Giovanni Palec, with the Embassy and POLO-OWWA personnel and their dependents, together with the officials from the Philippine School in Greece (PSG), Mrs. Gracia Celia Guieb Nickel, Principal and Directress; Mr. Manfred Nickel, PSG CEO and its Deputy Principal, Ms. Jazmin Imperial.
The program was followed by a Mass celebrated by Fr. Jeric Ballesteros, a visiting Filipino priest from Mian, at the Embassy reception area, then a simple breakfast.
Christmas Tree Lighting at the Ambassador's Residence, November 11, 2022
The Philippine Embassy held its Christmas Tree Lighting activity on was held on November 11, 2022 at the garden of the Ambassador's residence to welcome the Yuletide season. The event showcased the Philippine tradition of celebrating Christmas to invited guests from the Diplomatic Corps. The event was highlighted by the lighting of the Christmas tree and the singing of the Christmas Carols by Embassy personnel and their families.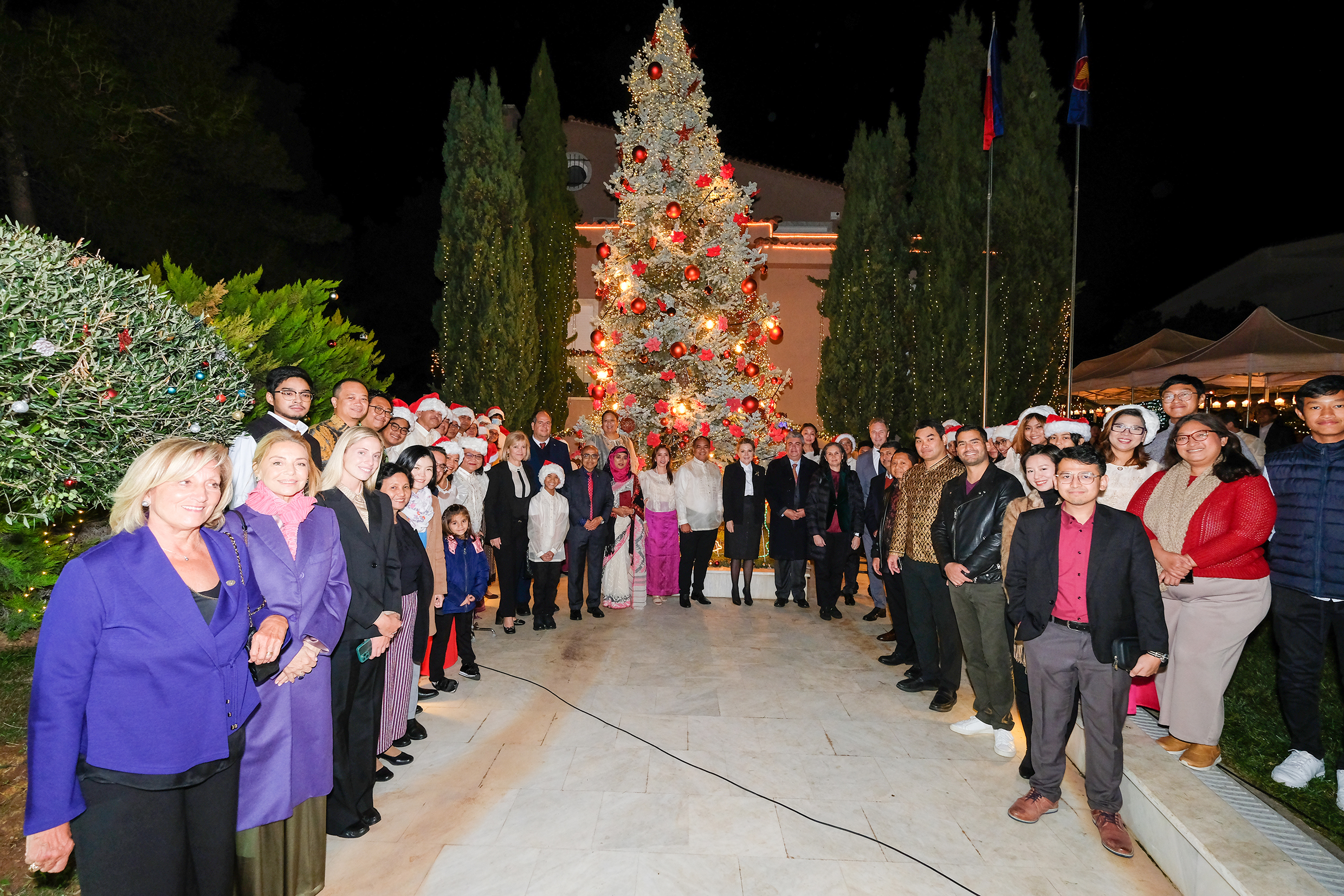 Guests were welcomed by Ambassador Palec who began the event with an introduction of the symbolism of the Christmas Tree and the message it conveys, and explained how Christmas is celebrated in the Philippines. The tree was lighted after the Embassy family headed by Ambassador and Madame Palec sung "Oh Christmas Tree" a song serenading the Christmas tree, followed by a series of Filipino and English Christmas songs. Messages of the songs were conveyed before rendering each song. The guests warmly applauded at the end of every song. The Embassy performance was guided by conductress Angelita Edrozo, pianist Renato Mendoza and guitarists Venn Angkico and Dominic Royce Edrozo from the Filipino community.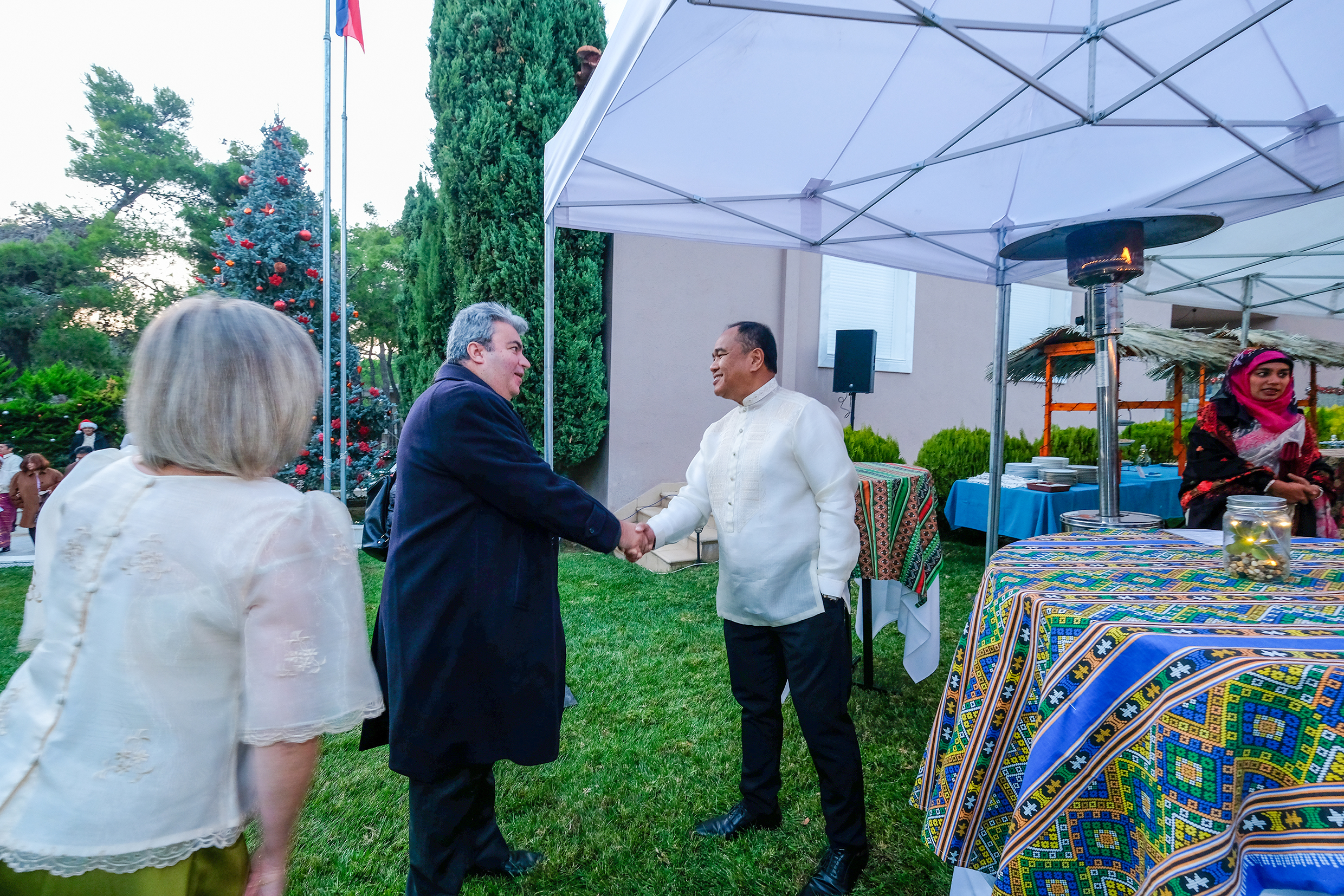 This year's Christmas tree lighting was witnessed by guests from the Ministry of Foreign Affairs, H.E. Agliai Balta, the Chief of Protocol and A9 Deputy Director Mr. Ioannis Chatzantonakis and spouse, and members from the diplomatic and consular corps and their family members, member of the clergy, key contacts and friend of the Embassy.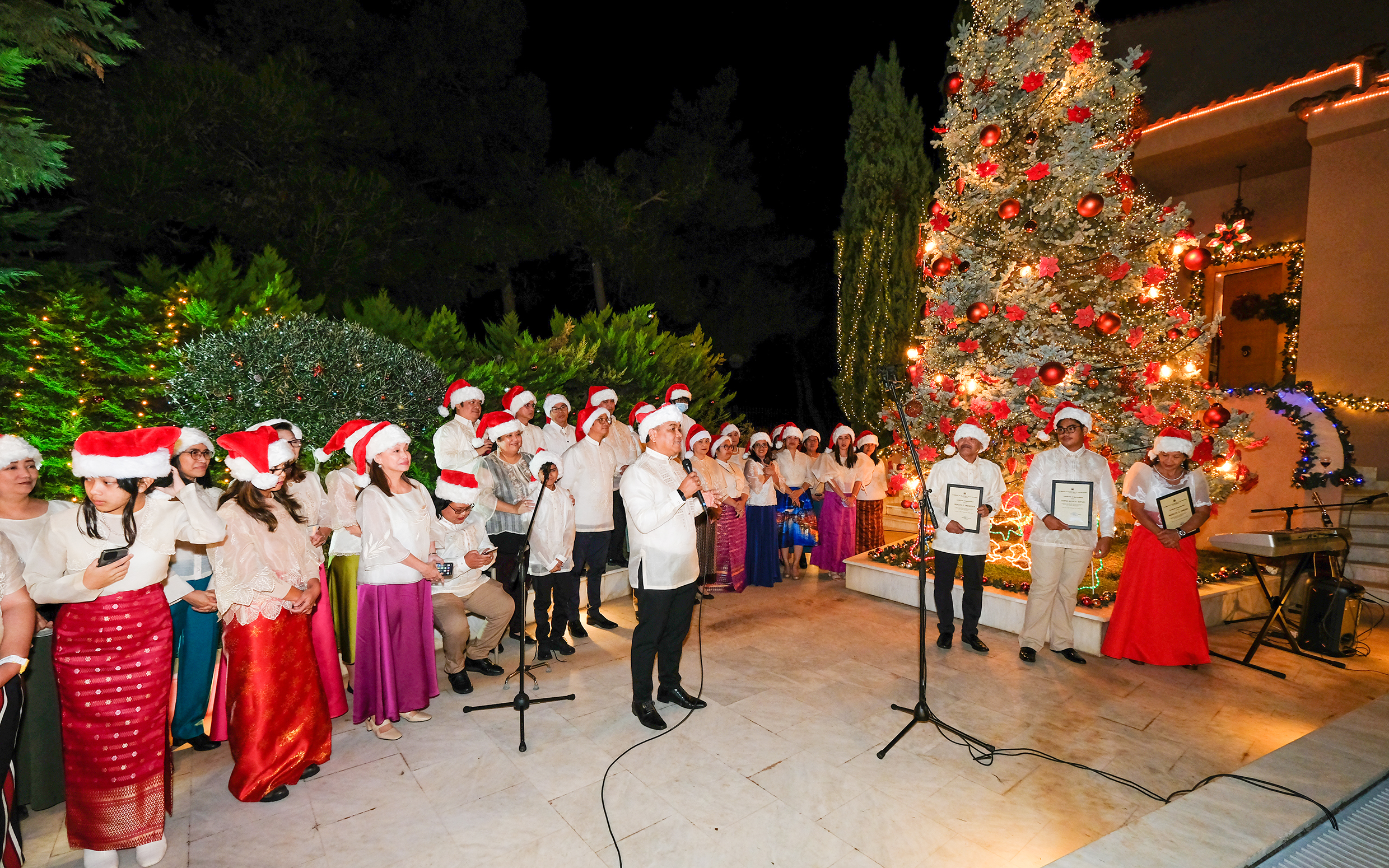 The guests enjoyed the Christmas atmosphere, with the lighted tree and the decorated grounds of the residence. Filipino dishes and delicacies were served: Pancit, Chicken adobo wrap, pork and chicken barbeque; sizzling tofu, chicken ala king, and desserts like, buko pandan, cassava cake, brazo de Mercedes bar and kutsinta.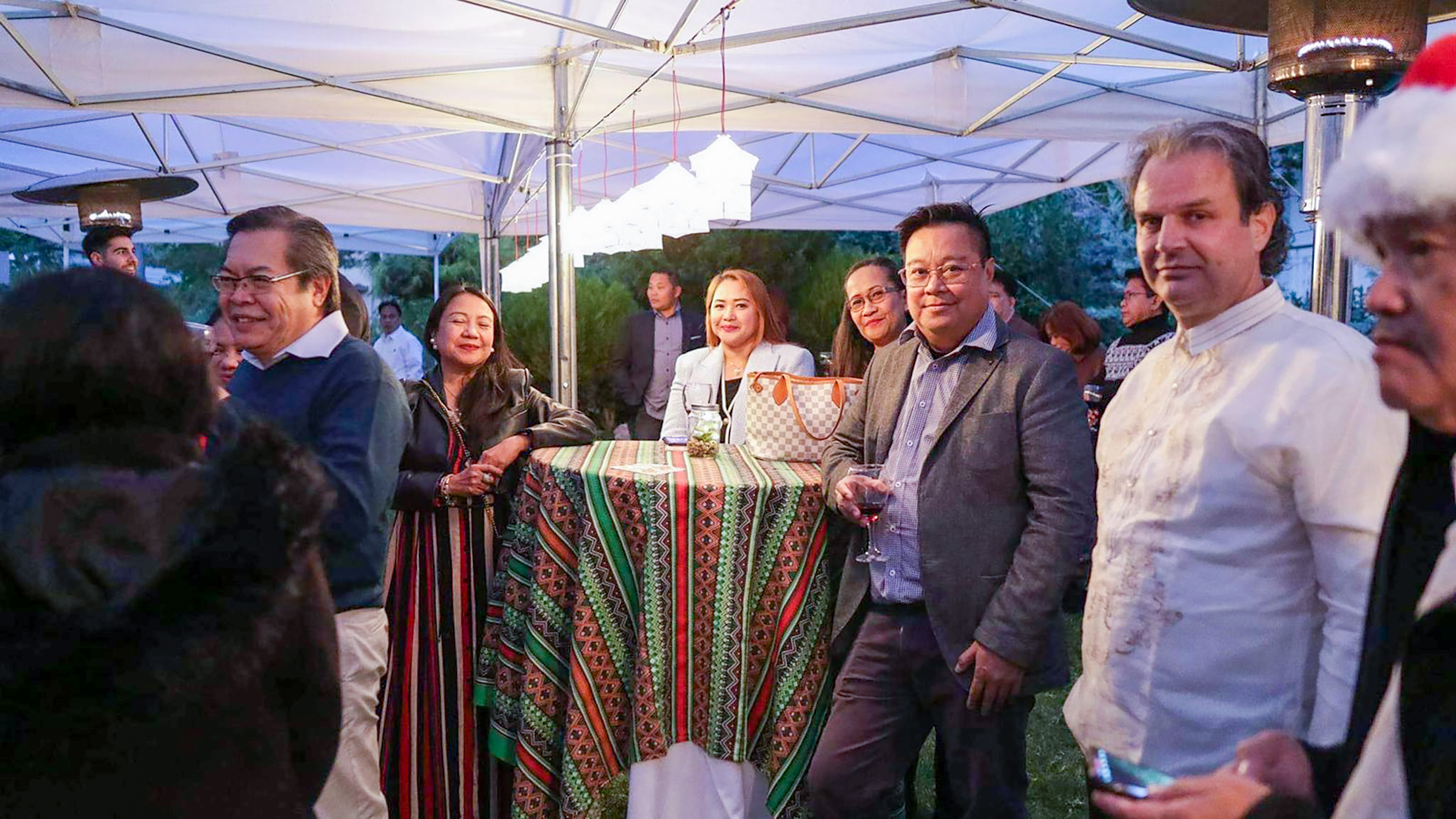 The event gathered the Embassy's friends and guests from the diplomatic corps in the true Filipino Fashion. It was a also a way of expressing gratitude to the established friendship with the guests.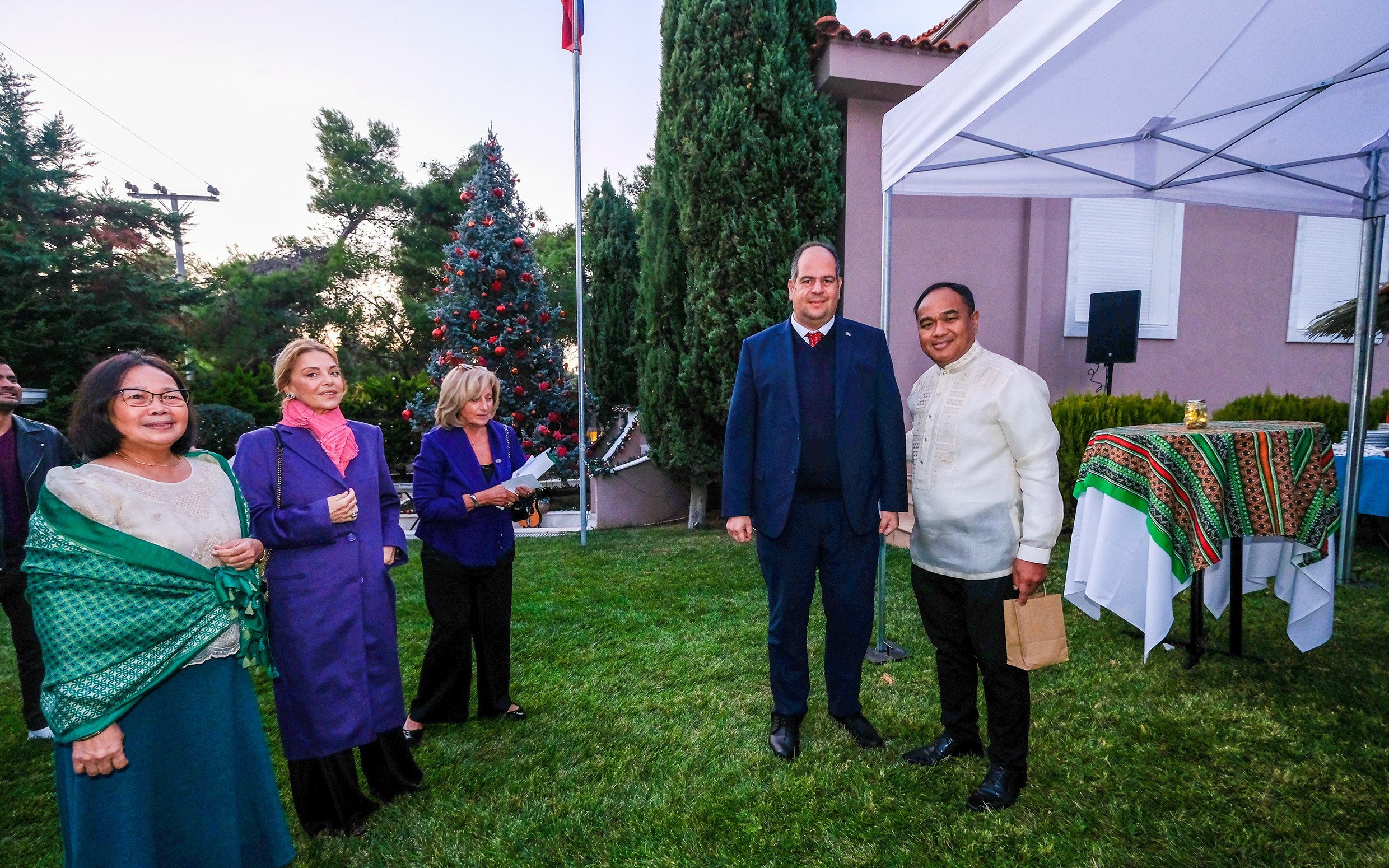 Office Hours
Consular Processing: Monday to Friday (except holidays) 9:00 am-4:00 pm
Consular Jurisdiction
GREECE
CYPRUS
NORTH MACEDONIA
Contact Details
 (0030) 210 672 1837
 For emergency: +306974319539
 (0030) 210 672 1883
 athens.pe@dfa.gov.ph
Consular Section
 (0030) 210 672 2011