VaxCertPH Now Accepted Across the EU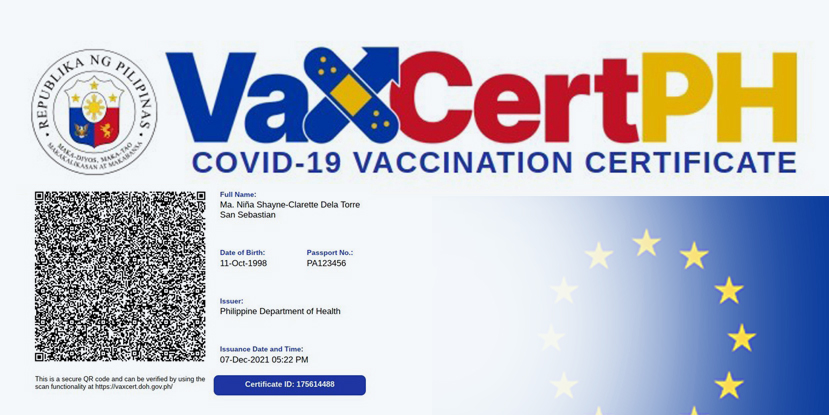 MANILA 10 August 2022 – The Philippines Covid-19 digital vaccination certificate or VaxCertPH is now accepted and recognized by the European Union Digital Covid-19 Certificate (EU DCC) system for use across all the member states of and within the EU community. Holders of the EU DCC, in turn, can look forward to its digital verification upon presentation at Philippine ports of entry. Prior to onboarding, recognition of VaxCertPH was through bilateral arrangements with the confines of borders of individual EU members.
This comes after the rigorous verification and validation undertaken by various Philippines government agencies, and after an earlier public confirmation undertaken by the EU Committee responsible for EUDCC interoperability.
The onboarding of the VaxCertPH to the EUDCC means that technical recognition is accorded to VaxCertPH which will now be regarded uniformly along with all issued EU DCC certificates recognized by EU member countries. The same courtesy shall be applied by the Philippines to EU DCC certificates presented at international ports on entry.
The landmark accomplishment ensures the seamless, expedited, safe travel and mobility of Filipinos to and within the EU and other jurisdictions that subscribe to the EUDCC standard. Outside the EU, the EU DCC has 48 non-EU countries and territories as part of the system.
With its onboarding to the EU DCC, the VaxCertPH is now among the most widely recognized vaccination certificates globally – recognized across 94 countries and territories. VaxCertPH is now accepted among the top trading, investment, tourism, and Filipino migrant destinations and partner countries of the Philippines. Moreover, VaxCertPH is among few vaccination certificates compliant with both Digital Infrastructure for Verifiable Open Credentialing (DIVOC) and EU DCC standards.
The EU DCC is an integrated certification system with a built gateway implemented by the European Commission which helps facilitate the easy and fast verification of certificate signatures across the EU. Considering the stringent data privacy laws in the EU, the gateway does not process the personal data of certificate holders and its functions are limited to verifying the digital signatures contained in vaccination certificates.
The successful onboarding of the VaxCertPH to the EU DCC was made possible through the efforts of the the Department of Foreign Affairs (DFA), Department of Information and Communications Technology (DICT), Department of Health (DOH), Bureau of Quarantine (BOQ), and Department of Tourism (DOT). END
Office Hours
Consular Processing: Monday to Friday (except holidays) 9:00 am-4:00 pm
Consular Jurisdiction
GREECE
CYPRUS
NORTH MACEDONIA
Contact Details
 (0030) 210 672 1837
 For emergency: +306974319539
 (0030) 210 672 1883
 athens.pe@dfa.gov.ph
Consular Section
 (0030) 210 672 2011