26 Antheon Street,
Paleo Psychico 154 52
Athens, Greece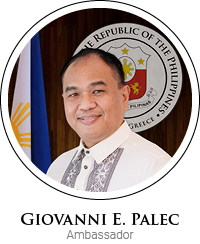 Diplomatic relations between the Philippines and Greece were established in 1950, but an agreement on the establishment of resident missions in Manila and Athens was reached only in 1987 between then Secretary of Foreign Affairs Raul S. Manglapus and then Greek Minister of Foreign Affairs Karolos Papoulias.
In 1988, the Philippine established a resident embassy in Athens and in 1992 a non-resident Greek mission to the Philippines based in Jakarta was established. In 2006, the Greek government established its resident embassy in Manila.
The Philippine Embassy was officially opened in October 1988 by CDA a.i. ANTONIO P. VILLAMAYOR. Thereafter, Ambassador ALBERTO A. ENCOMIENDA arrived in Greece as the first Philippine Ambassador Extraordinary and Plenipotentiary accredited by the Greek government on 29 March 1989 and followed by the following ambassadors:
JOSE U. FERNANDEZ
January 1993 – June 1996
NORBERTO R. BASILIO
July 1996 – August 2002
LOURDES G. MORALES
Sept. 2002 – March 2006
RIGOBERTO D. TIGLAO
May 2006 – 30 September 2010
MEYNARDO LB. MONTEALEGRE
September 2011- 31 March 2015
NESTOR Z. OCHOA
09 April 2015 - 30 June 2016
GIOVANNI E. PALEC
March 2021 - Present